Blood.  Sweat.  Tears... Period.  Our cottage transformation.
Exterior:
We bought this little cottage for a song.  We actually didn't even completely hate the yellow exterior... but it wasn't quite the RIGHT shade of yellow for us, and it was beaten up pretty bad.  Ok, really bad.  Nonetheless, we called it our "little yellow french country cottage" for a couple of years before we decided on cedar shaking the exterior and painting the rest of the siding a great Sherwin Williams color:  Accessible Beige.  (SW7036)  We loved the transformation, and so did the neighbors.  (Most were not fans of the big-bird yellow house that squawked at them).  Doing the cedar shake ourselves was quite fun!!  If you've been holding off, don't.  We found the whole experience therapeutic.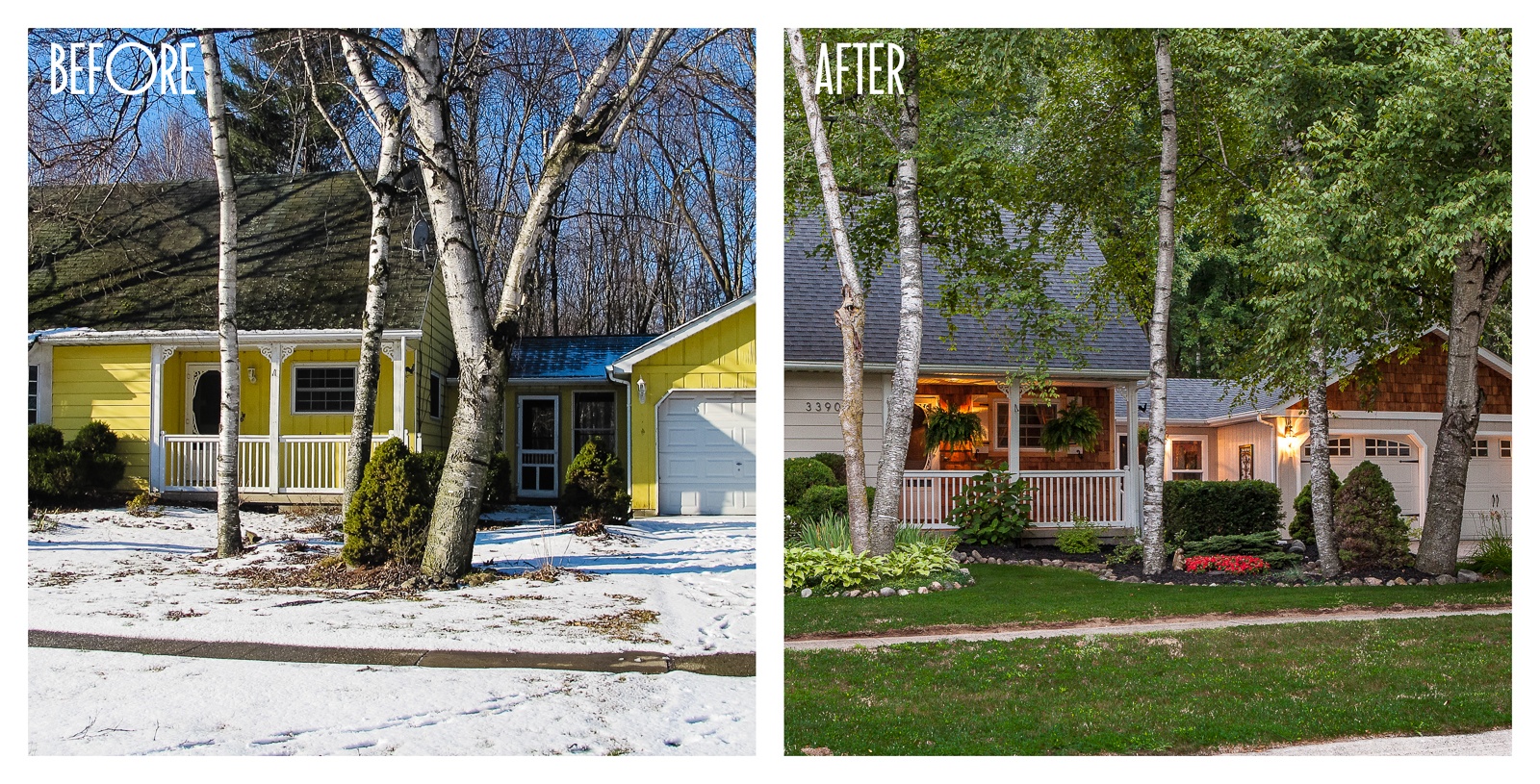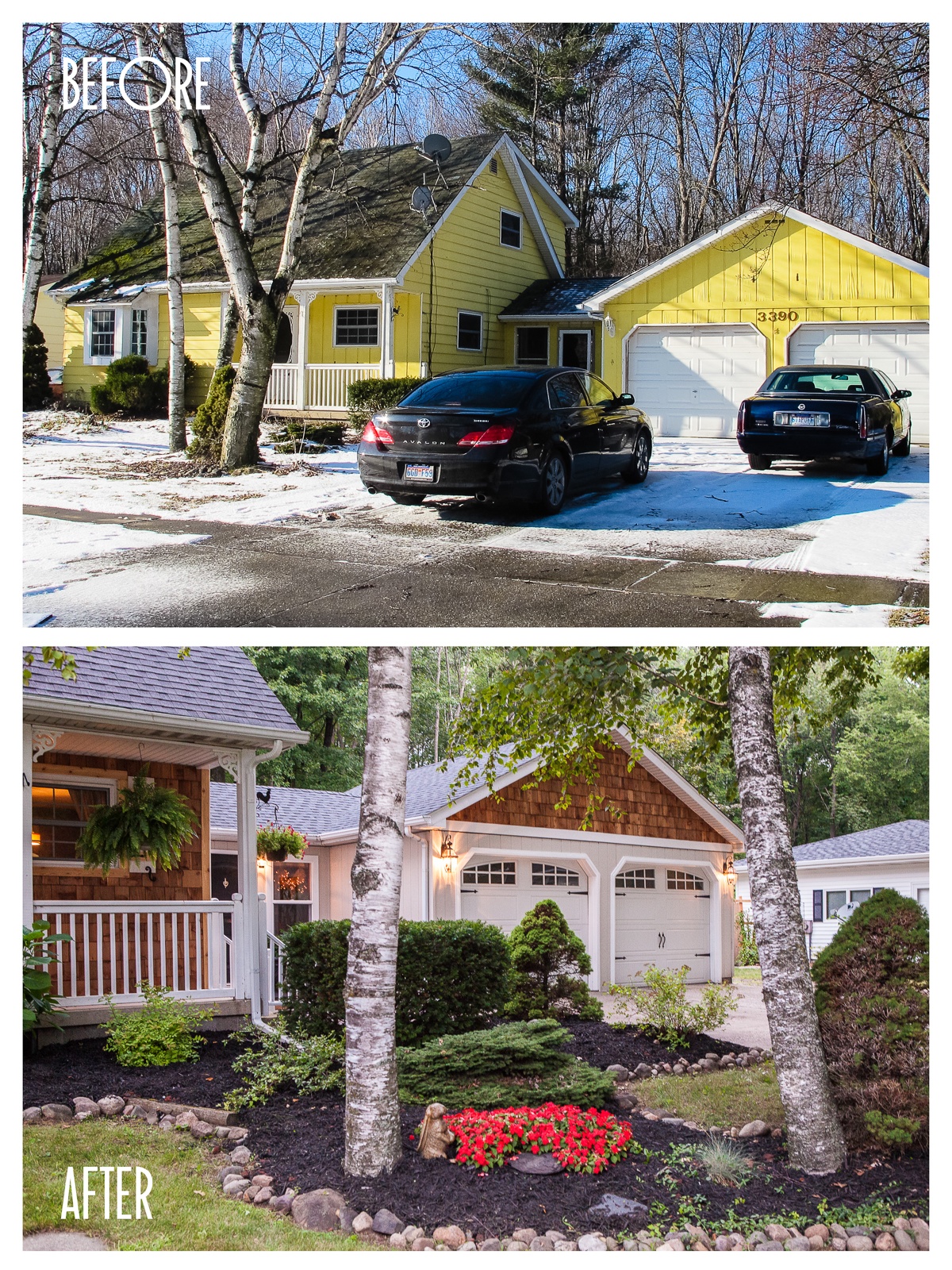 One of our house flipping signatures is the carriage-style garage doors.  LOVE THEM!!  I mean, really... the garage can take up 50% of the frontage space of your home!!! (gasp)  WHY WOULDN'T you want to decorate them with a little bit of deliciousness??  In this instance we replaced both garage doors.  Sometimes we simply purchase the carriage-style hardware and transform the garage that way.  (Much cheaper!)  You can find hardware at your local box stores.  We prefer the ones you screw on as opposed to the magnetic ones.  They are basically the same price.  The ones we prefer are at Home Depot.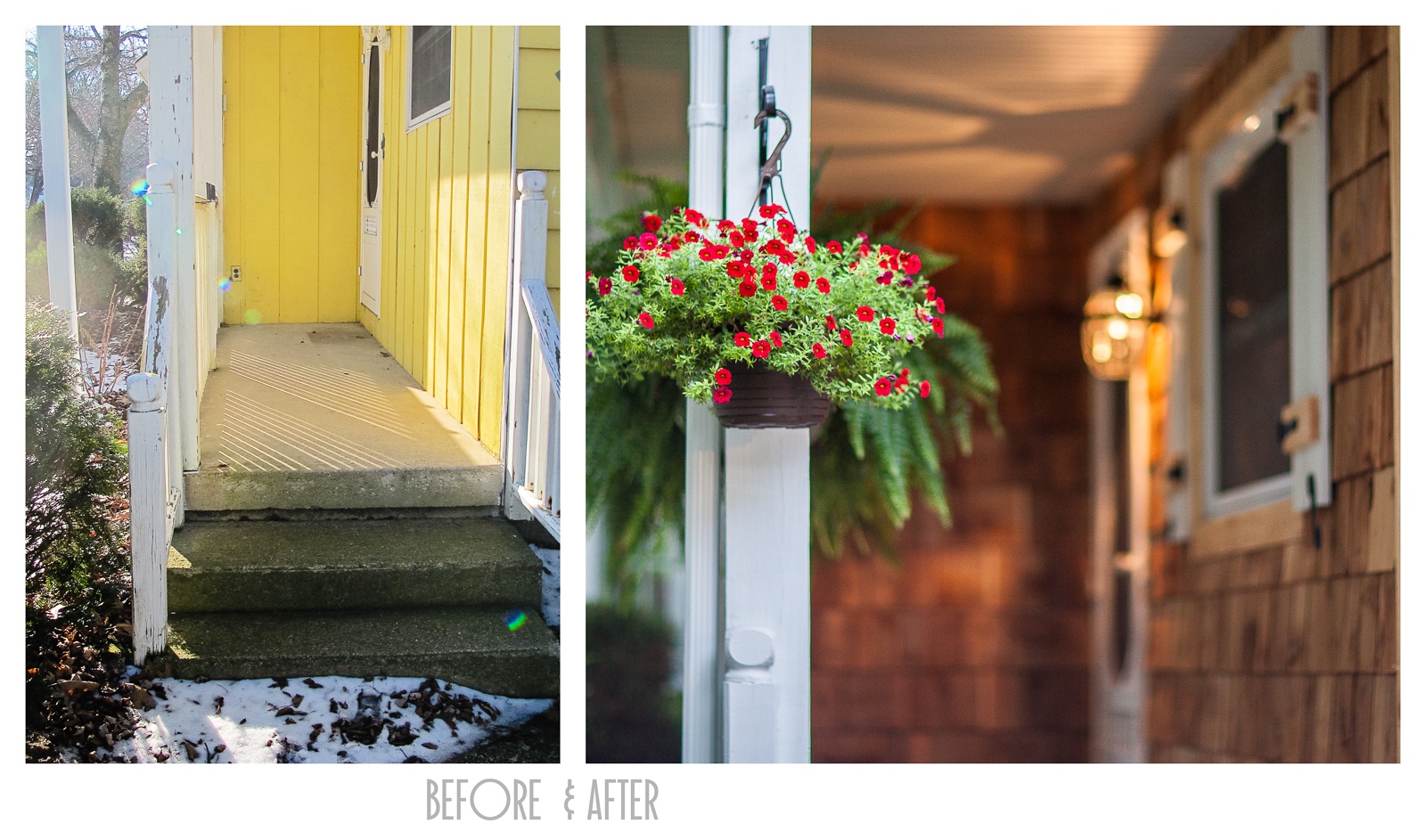 Never underestimate the power of gorgeous flowers to add instant curb-appeal!  We made those custom shutters, and added some faux hardware there too, for an added punch.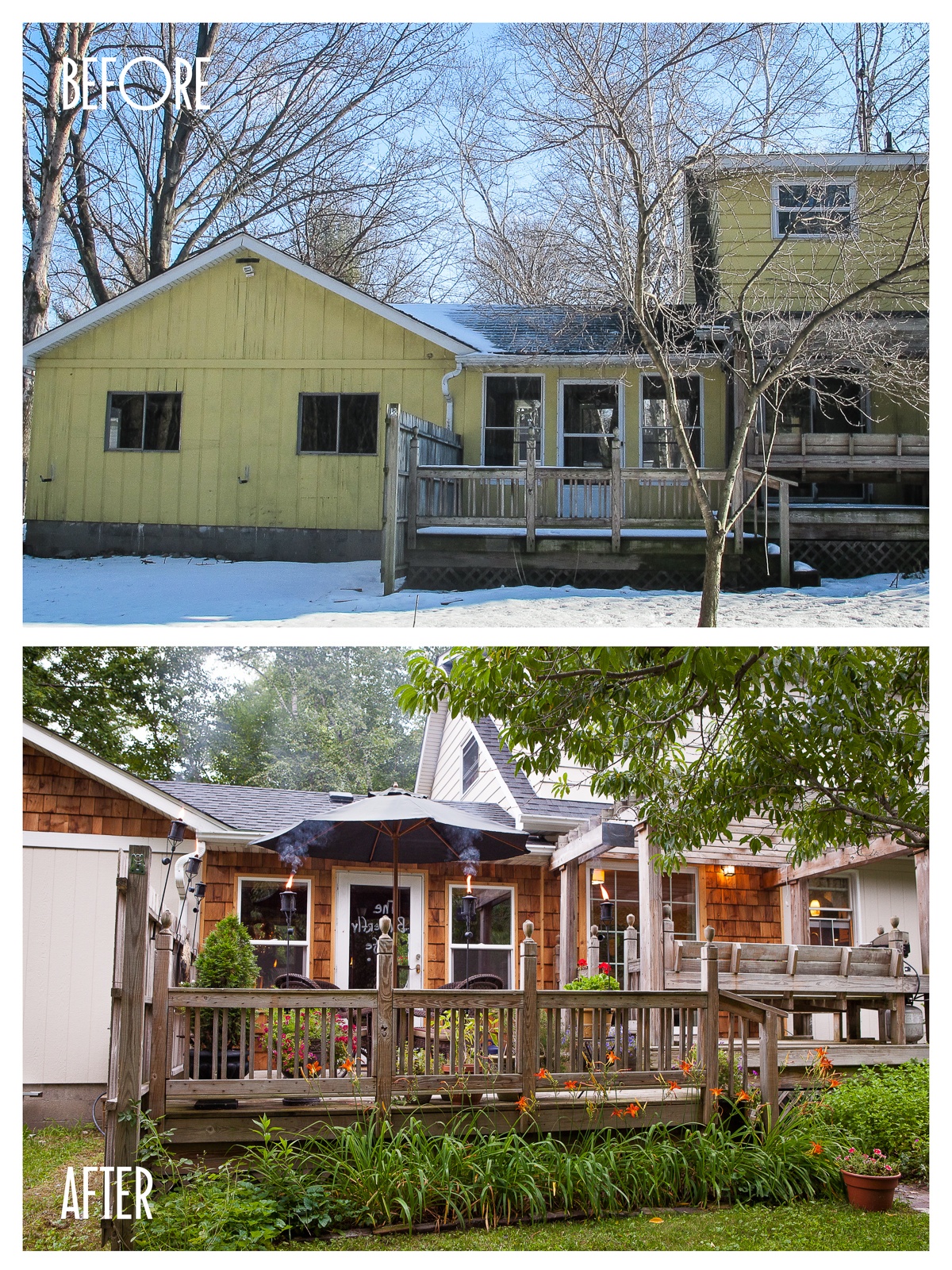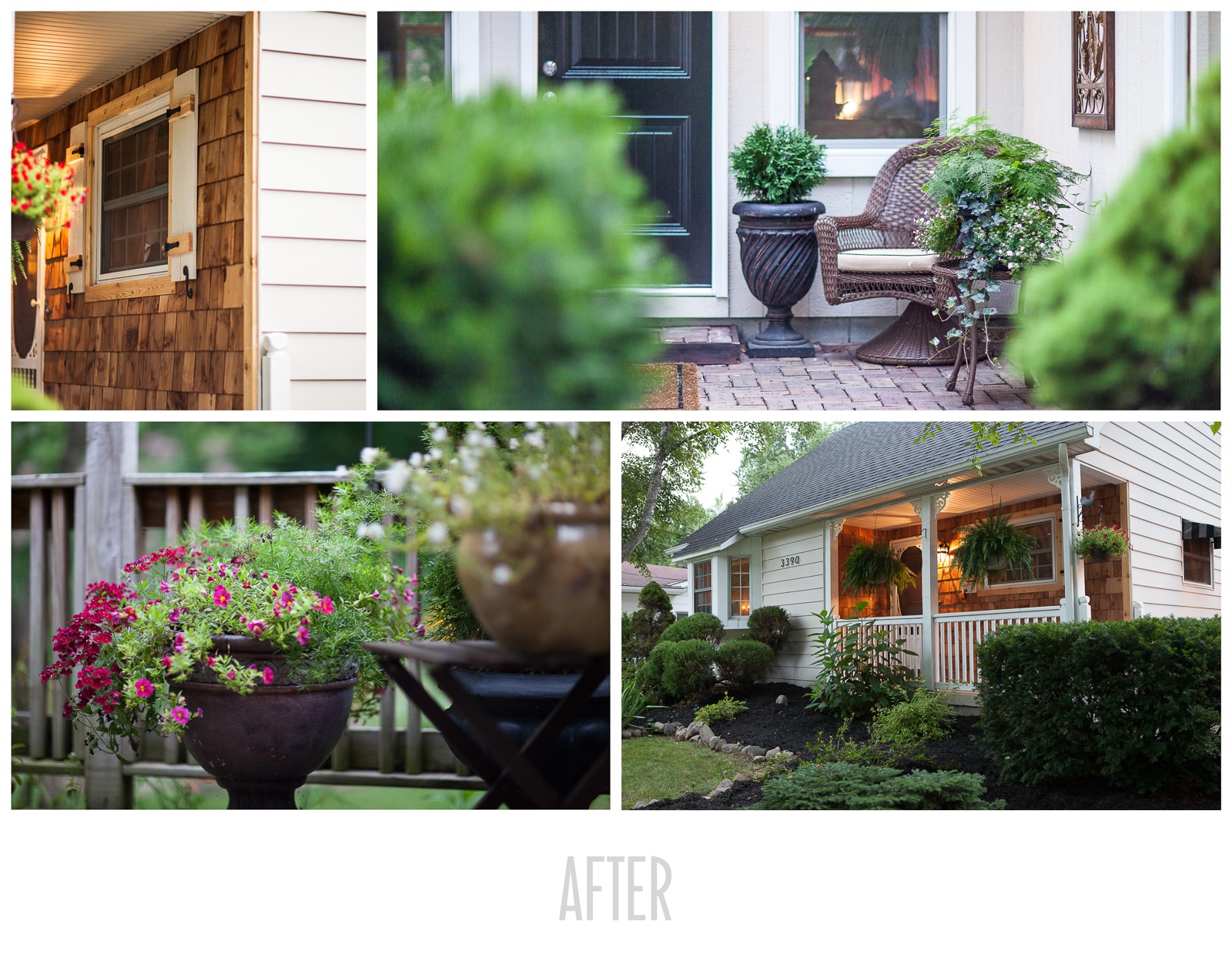 Den:
This little room saw quite the transformation.  We used a great red called FIREWEED from Sherwin Williams.  SW6328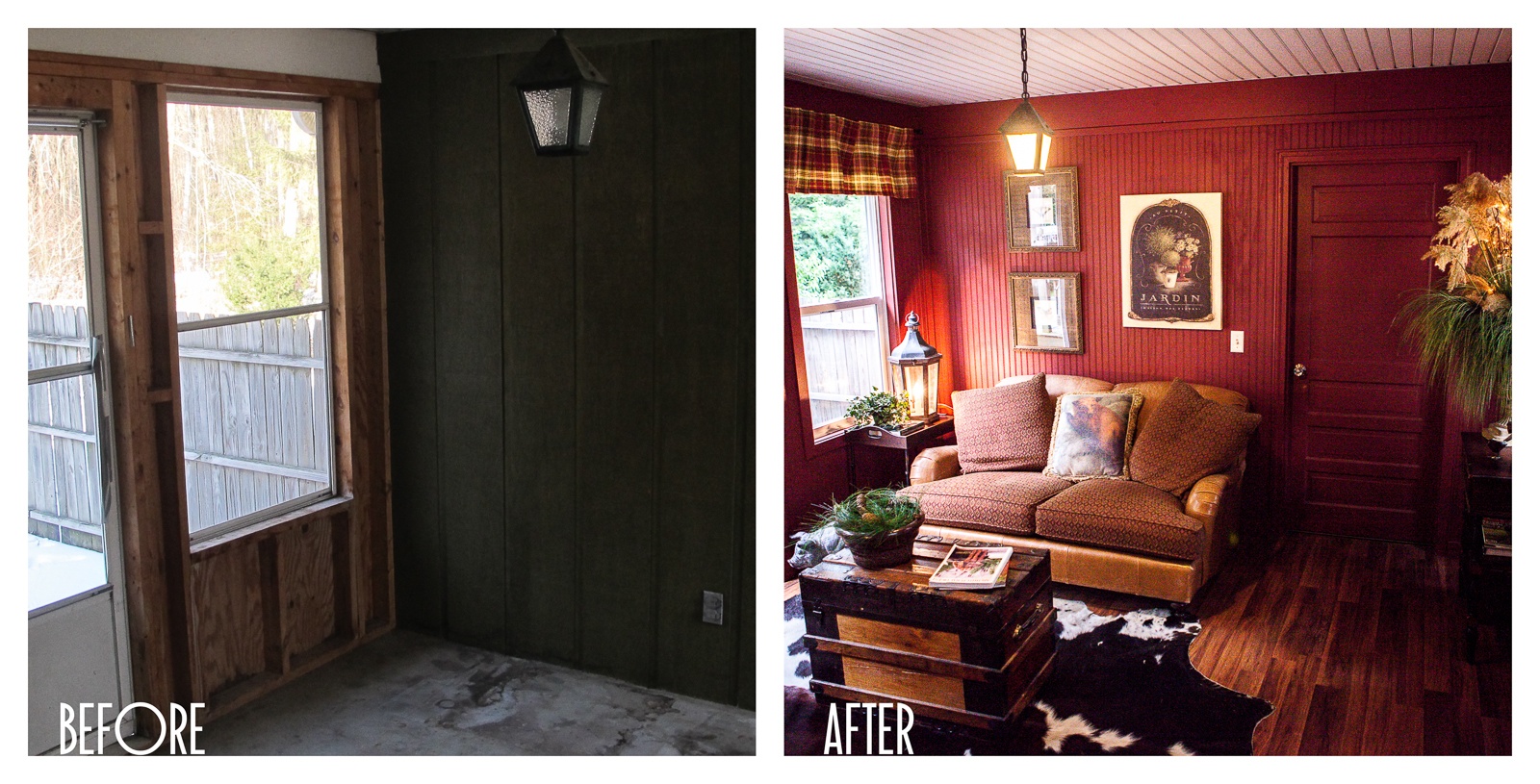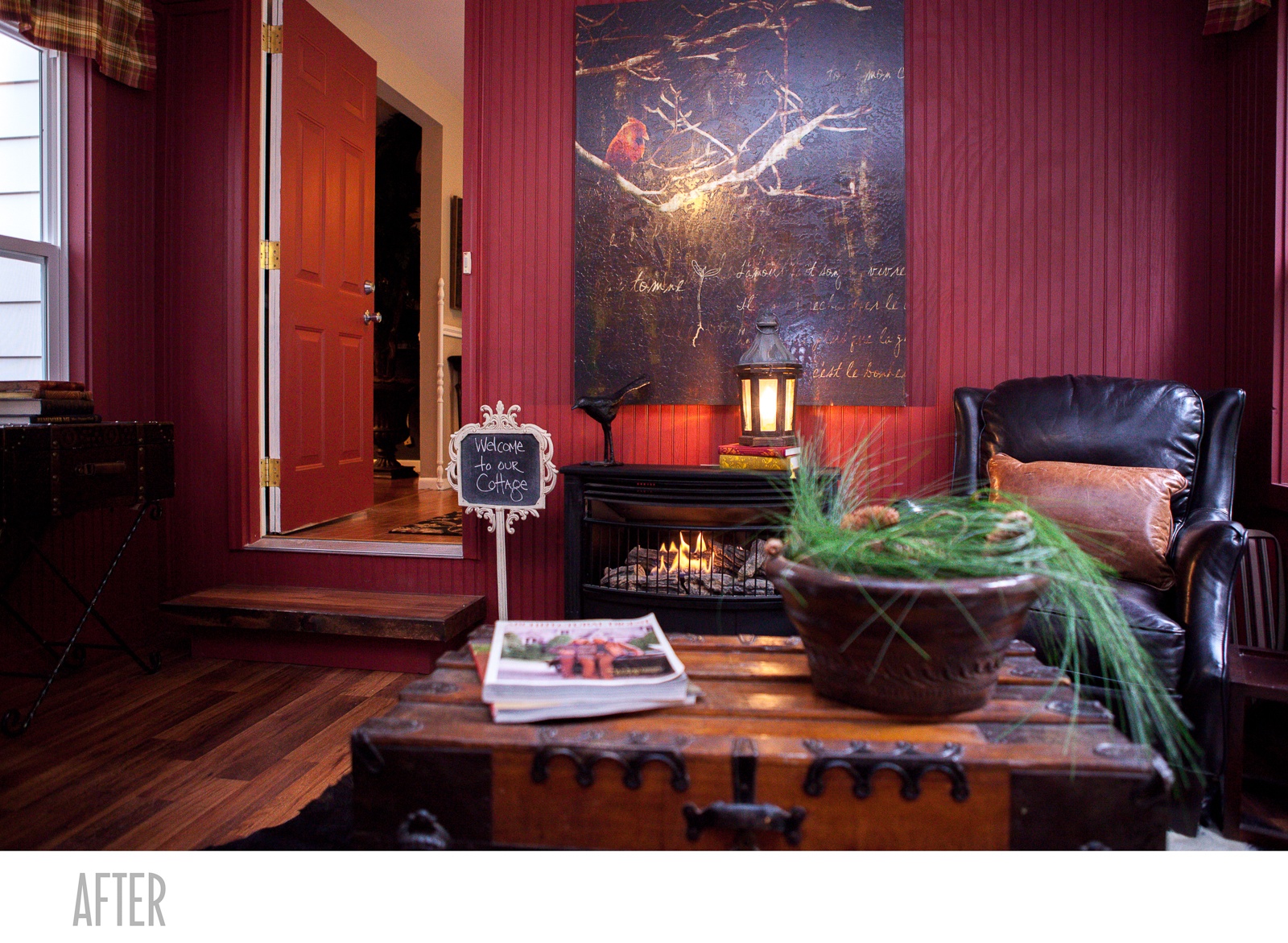 Guest Bedroom:
What's not to love about a rich Ralph Lauren inspired room and a great navy blue paint color???? Swoon!!  Authentic polo mallets hang above the headboard.  (All bedding shown, is by my favorite designer, Ralph Lauren) and the rich, bold, navy blue is another Sherwin William's favorite.  It's called NAVAL.  SW6244.  Did I mention how much I LOVE navy blue?  T I M E L E S S!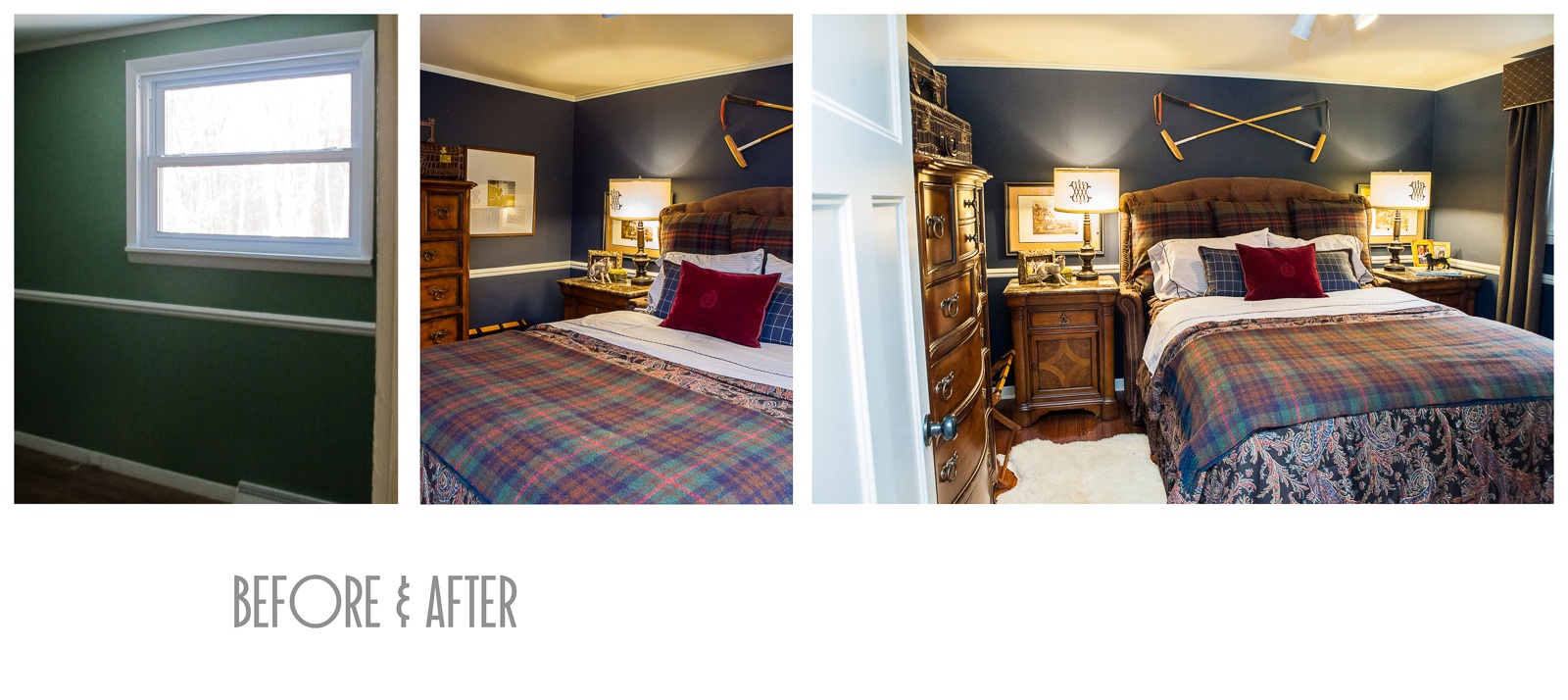 Master Bedroom:
After much deliberation and many sample paint swatches smeared all over the house (sorry, husband..grin), the color of choice was..KHAKI SHADE by Sherwin Williams.  We felt like it gave the perfect balance of warmth and moodiness without feeling like a drab "contractor" color!  (ew!)  The number is:  SW7533!  We ALWAYS get samples before buying paint.  Well, almost always.  Buy samples!!!  It will save you hundreds of dollars!!!  The lighting, the house, the way the sun filters through each home is always different. Look at your color in the morning, at high noon, in the evening.  It's always changing.  Buying 7 gallons of the WRONG shade is not an easy pill to swallow. Live and learn.  We did!  Never again.  Remember: settling on the wrong color, is well, unsettling.
We made custom cornice boards for every window because of the height of these windows.  They were too high for the standard, and most readily found, 84" panels.  And the ceilings were too low for the 95" panels.  (sigh).  Soooo this was our solution, and we loved the result.  The curtains were hung super close to the window casing..but it doesn't look like it, because we mounted the cornice's at the ceiling.  You can find all kinds of youtube videos on making these yourself.  We were inspired by a video made by "diyhipchicks".  No sewing required.  Just get some fabric and some batting and a good staple gun, and cover your custom made wooden cornice boards.  sidenote:  It looks so much better if your panels just graze the floor.    Also, it wonderfully elongates a room if you hang your panels as close to the ceiling as possible.  If you can't, these cornice boards are a great option.  
Another signature thing we sometimes do in small bedrooms is mirrored closet doors.  Every bedroom needs a mirror.  (Have you ever stayed in someone's guest room without a mirror?  Dah!  Frustrating.  It's like going into a fitting room, without a mirror.  It makes no sense.  We dress in our bedrooms, so we need mirrors.  This is also a great way to open up the room and reflect light.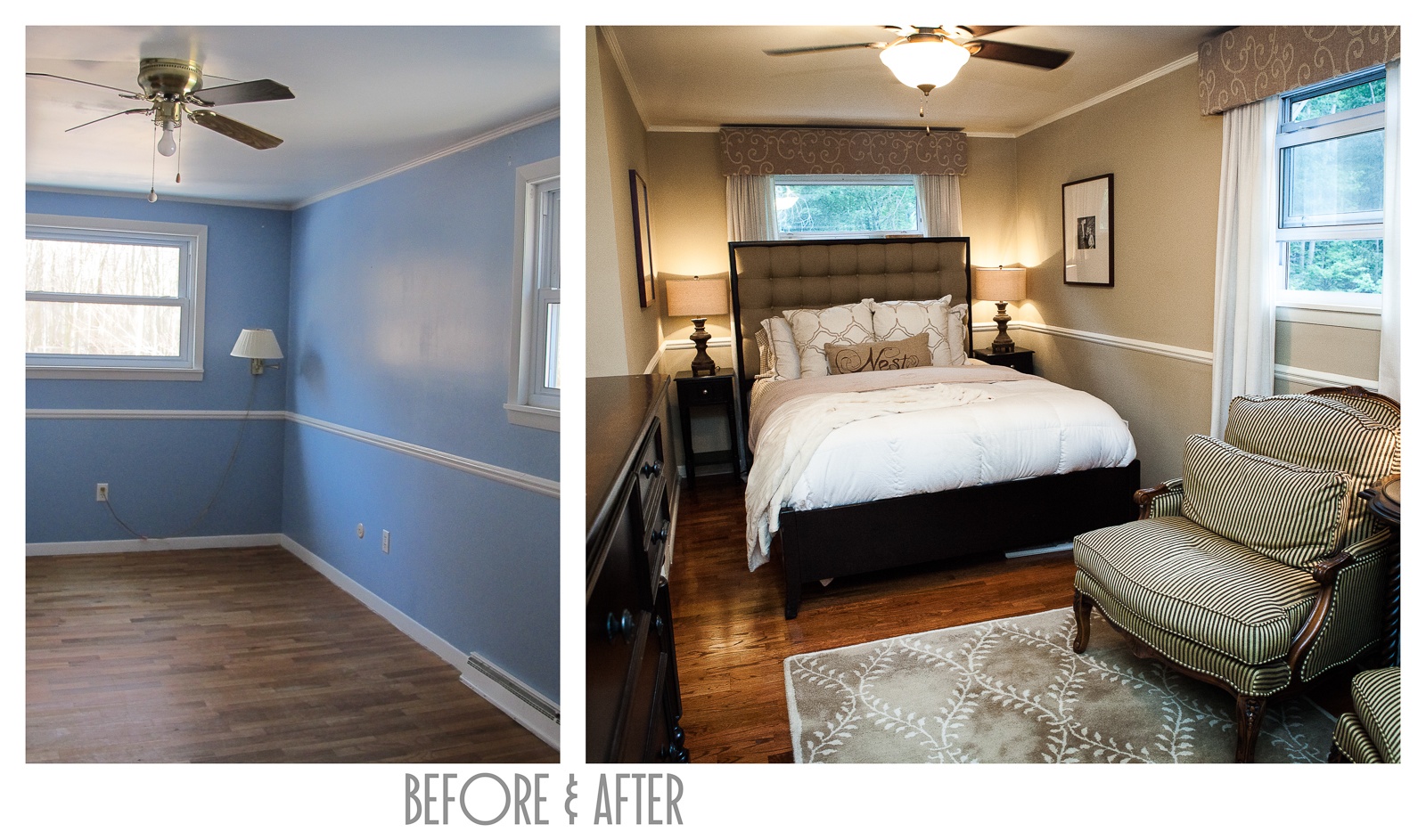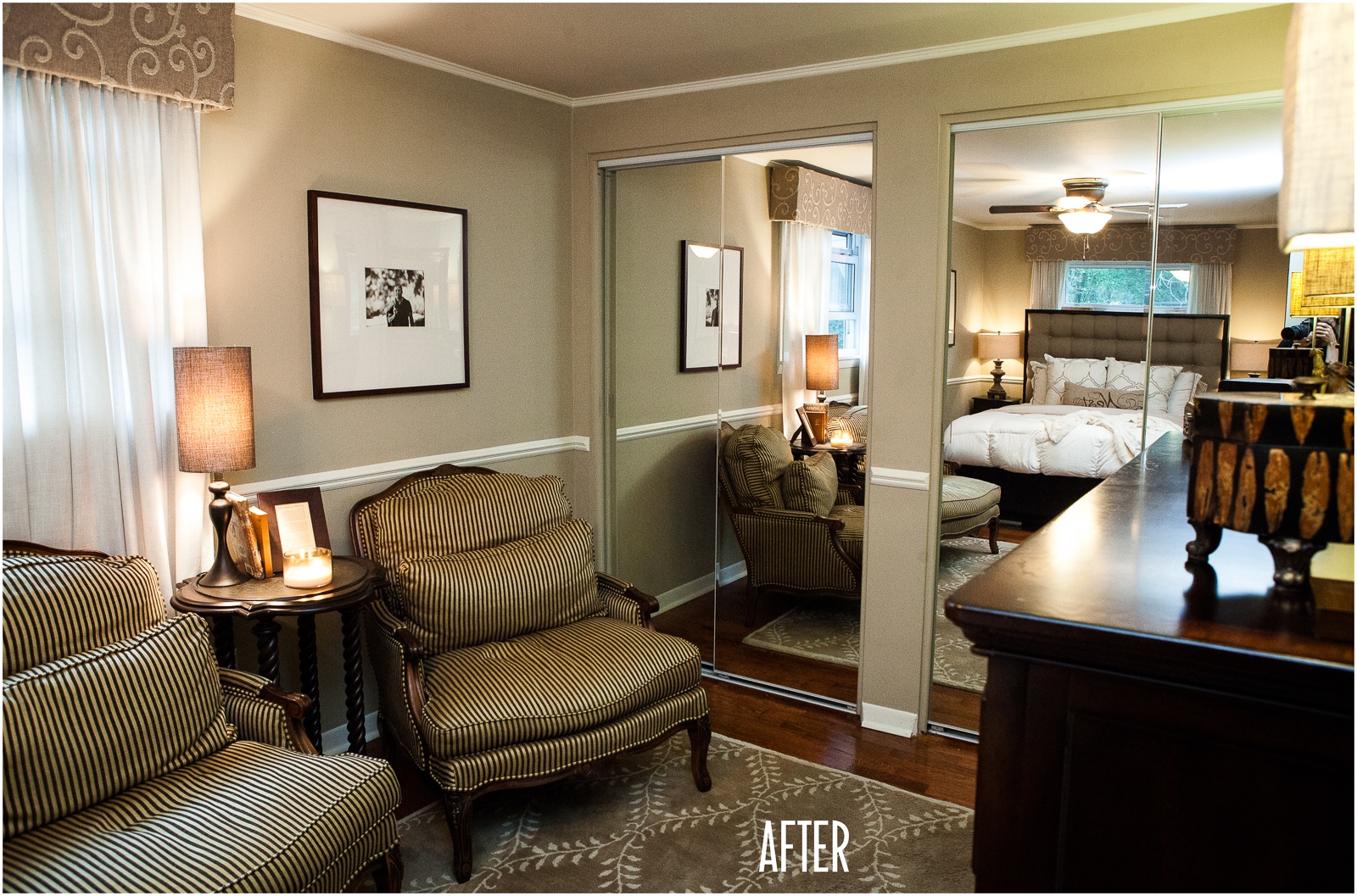 Dining Room:
This was one of my favorite rooms in the house.  I love dark masculine colors.  This was a BEHR paint color called:  INTELLECTUAL.  The number is UL260-2  It's a deep charcoal color.  Yum.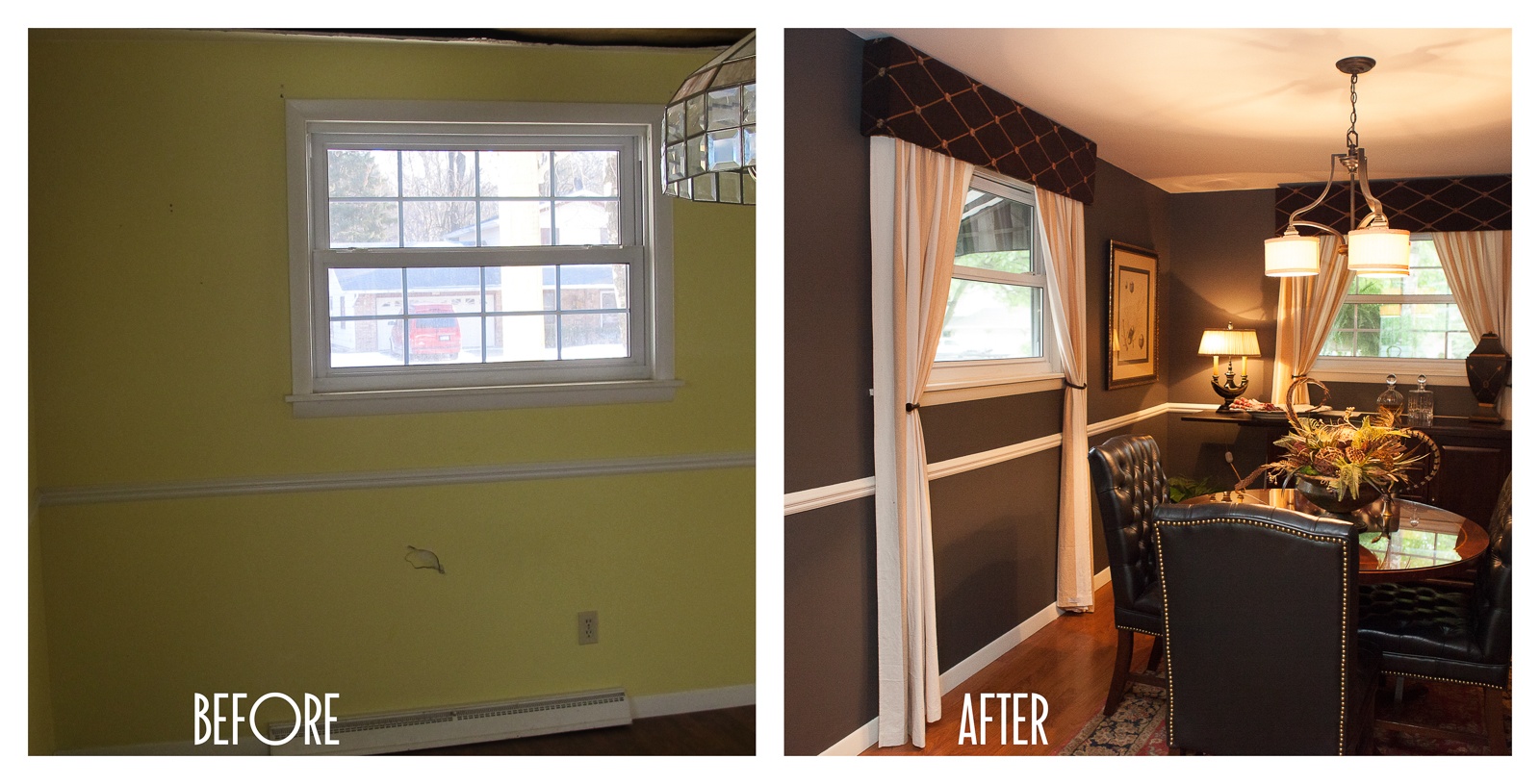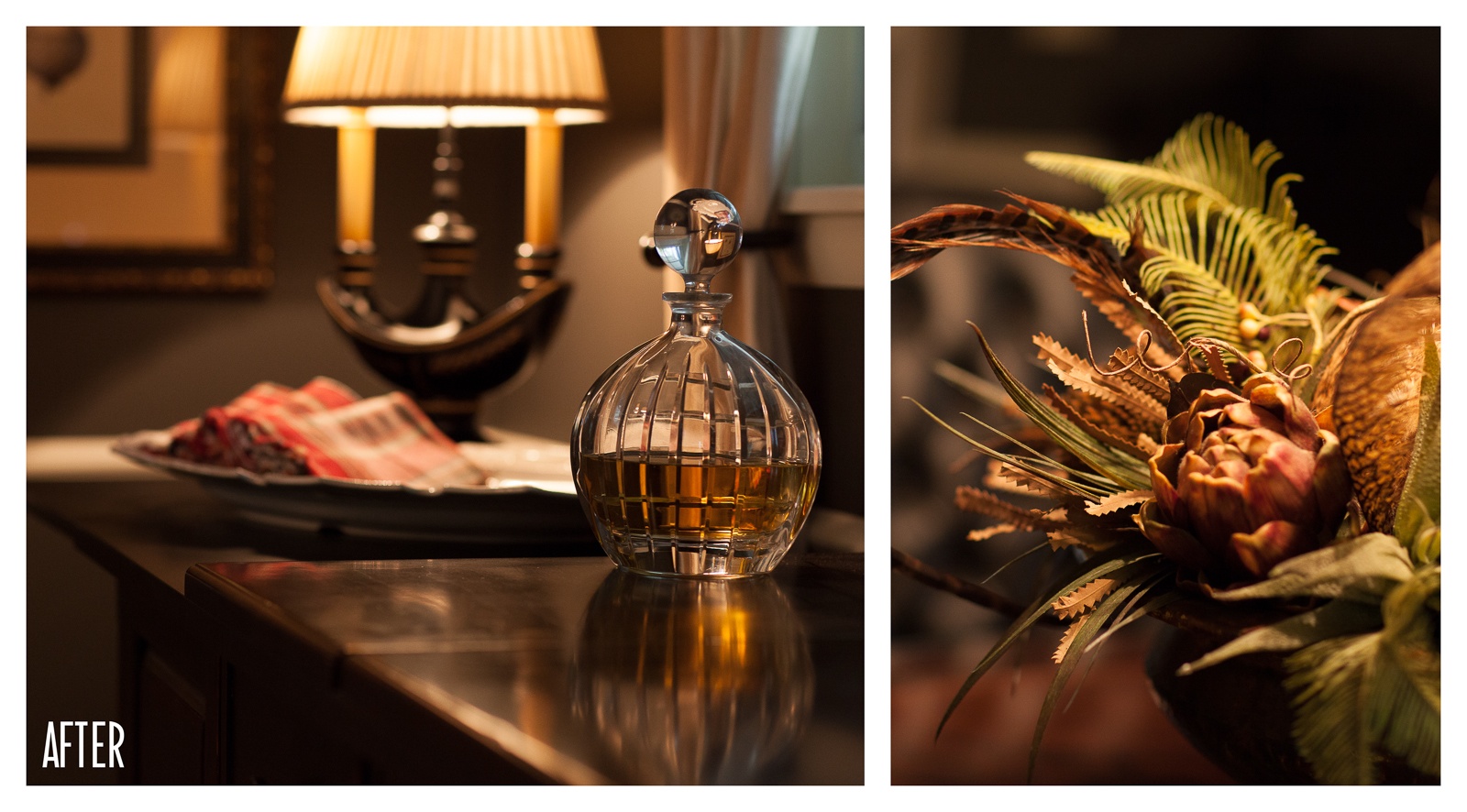 Living Room: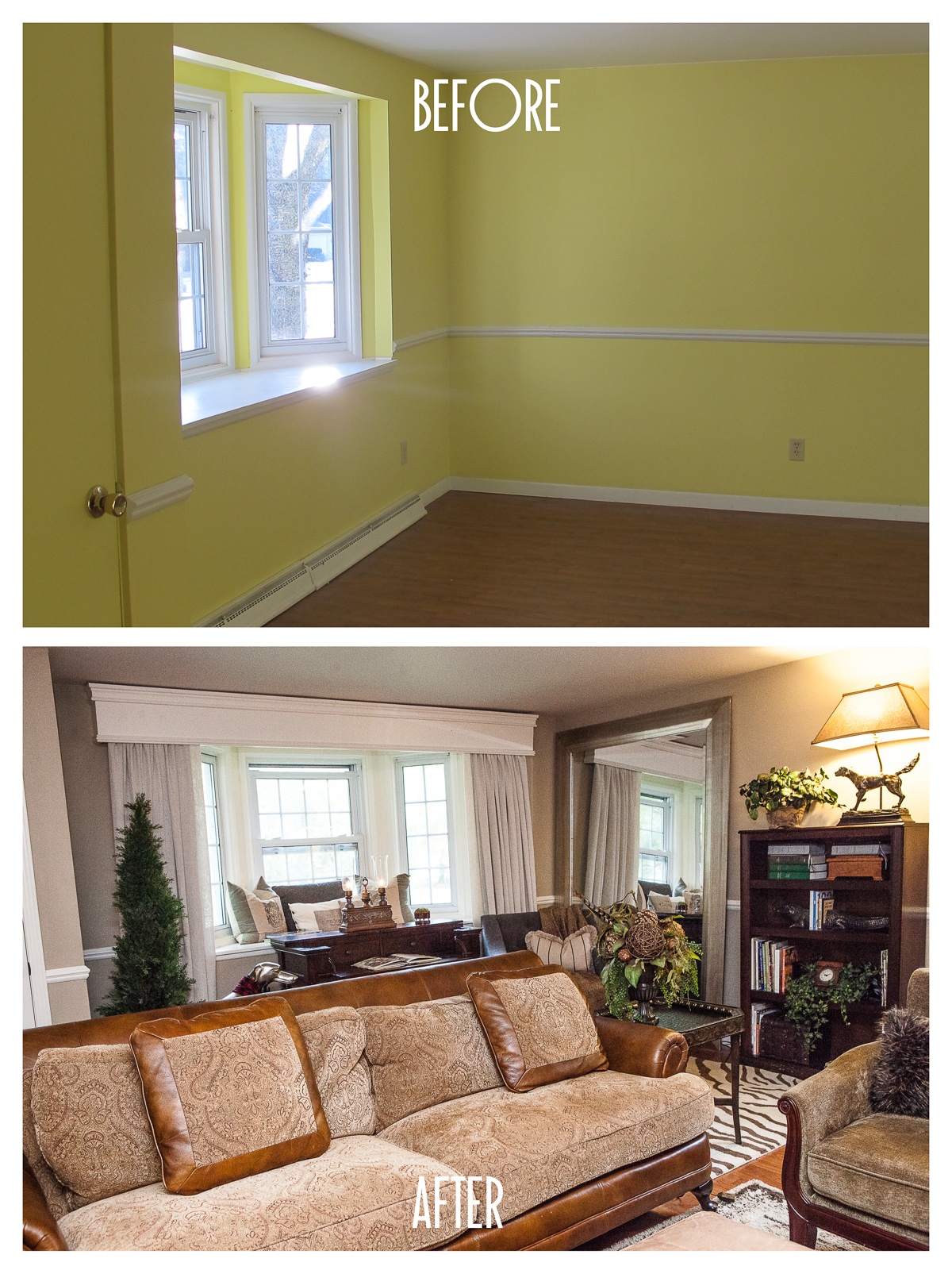 This house was BEGGING for a real wood burning fireplace, soooooo... my amazing husband PUT ONE IN!  Yes, he's incredible.  (I'm apologizing in advance for not having the fireplace lit for this picture... lame, I know.. but I seriously had NO TIME this day.) wah!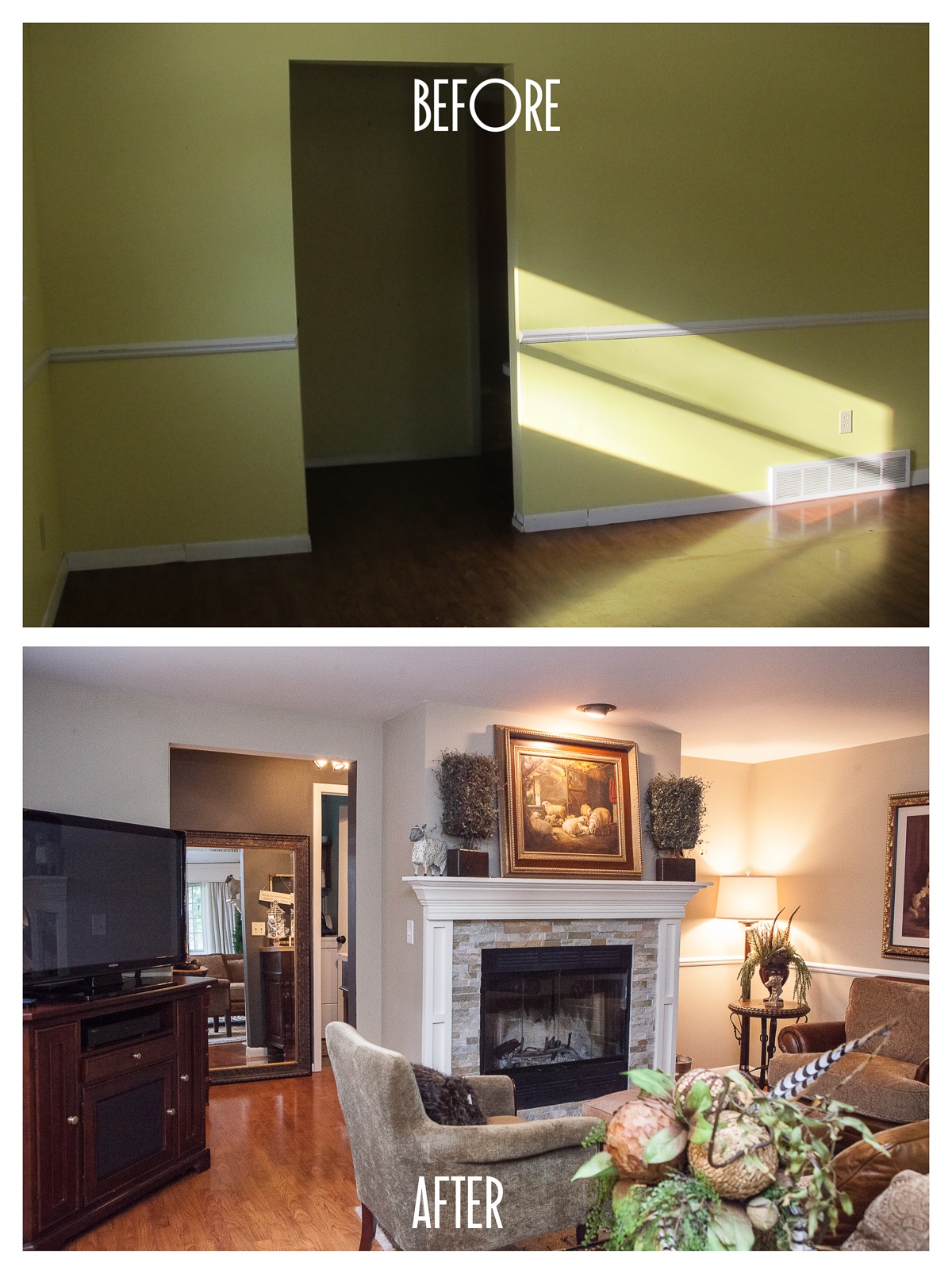 Library: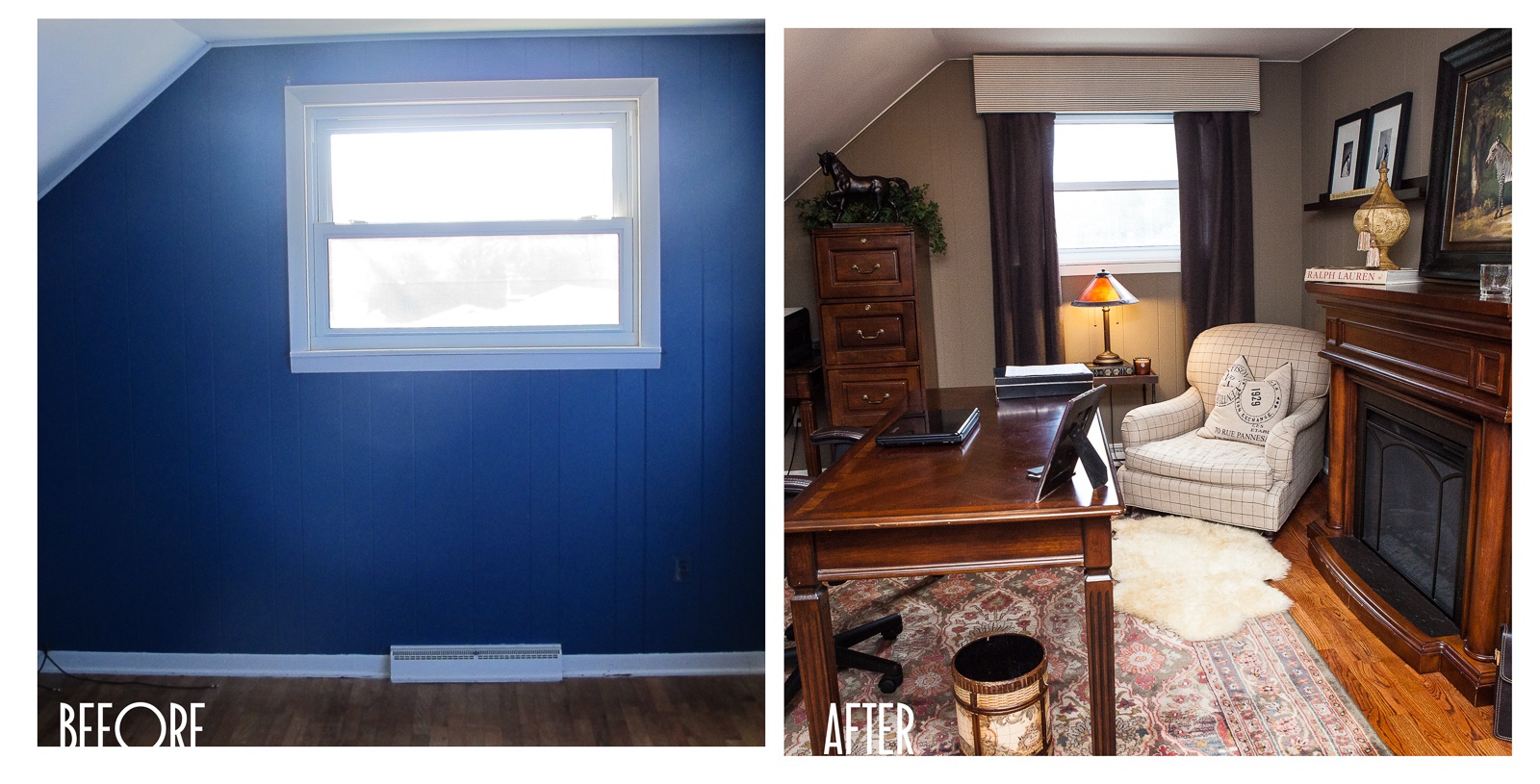 Upstairs Bathroom:
Oh, Oh, Oh... How pleased we were with this bathroom makeover.  Whenever possible we always go with the BIGGEST possible vanity the space will allow for.  Newsflash:  GIRLS..NEED..SPACE.  As MUCH counter space as POSSIBLE!!  NOBODY wants to try to balance makeup, hairbrushes, flat irons, cleansers, toothbrushes.. ON TOP OF A PEDASTAL SINK!!  YES, my eyes are ROLLING. And yes I HATE pedestal sinks. (bowing head, sighing).  Clearly a male invention.   (used the same "Naval" sherwin williams color in this room as well.  See how rich this color is?  This navy looks fabulous with marble.  We added marble floors to finish off this timeless and classic look.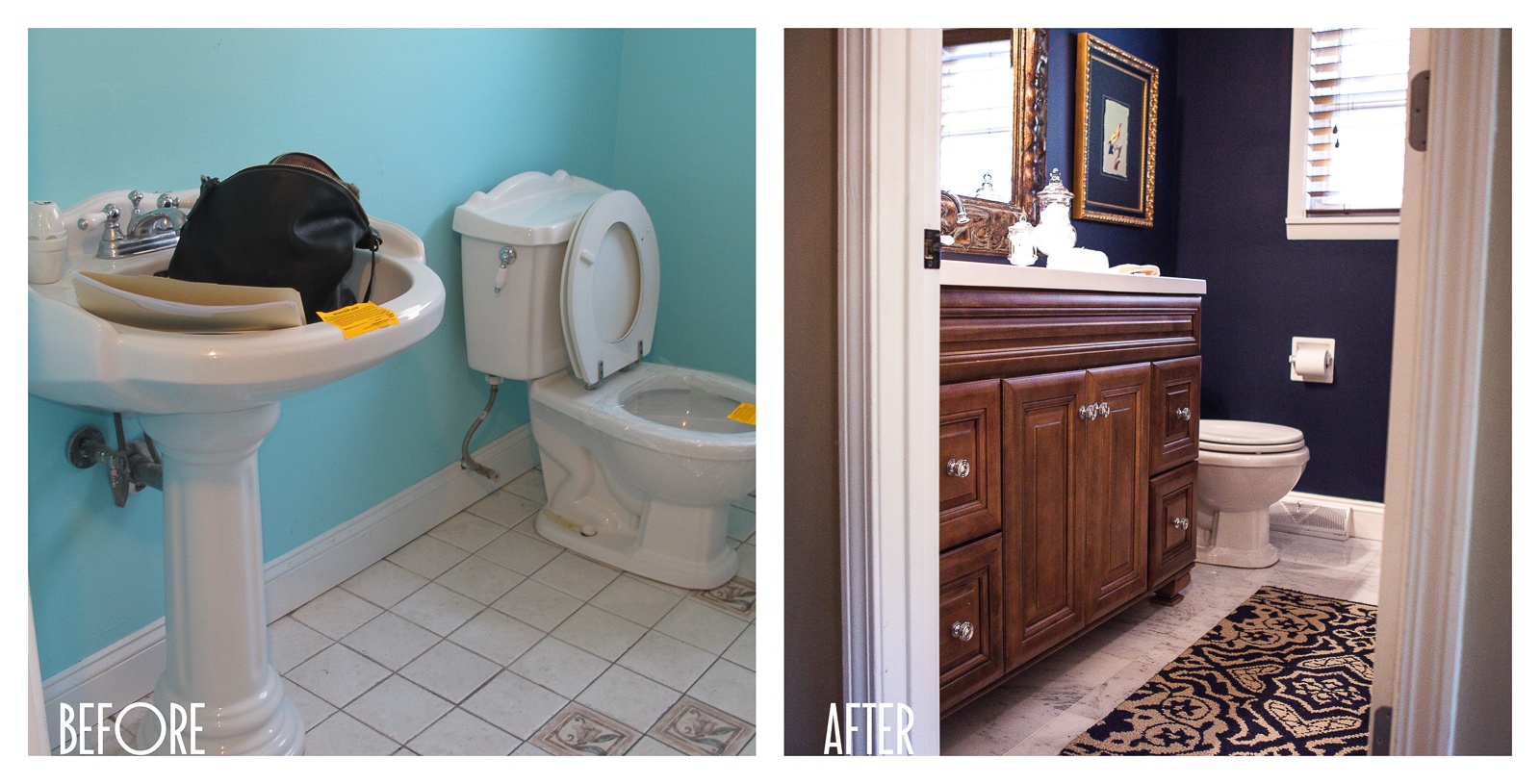 Downstairs Bathroom:
Another bathroom, with quite the transformation.


Kitchen:
The previous owners CLEARLY had some fascination with yellow.  We grew to loathe yellow (is that too strong a word?)  Perhaps, but we won't be using yellow anytime soon for any of our houses.  We painted the cabinets and installed Butcher block countertops (another signature).  They hold up great, and the look can't be topped for the price!  The secret is in the topcoat.  Are you still reading?  Use Water Lox!!  It's fantastic!  We shant use another...ever... it's foolproof and it works!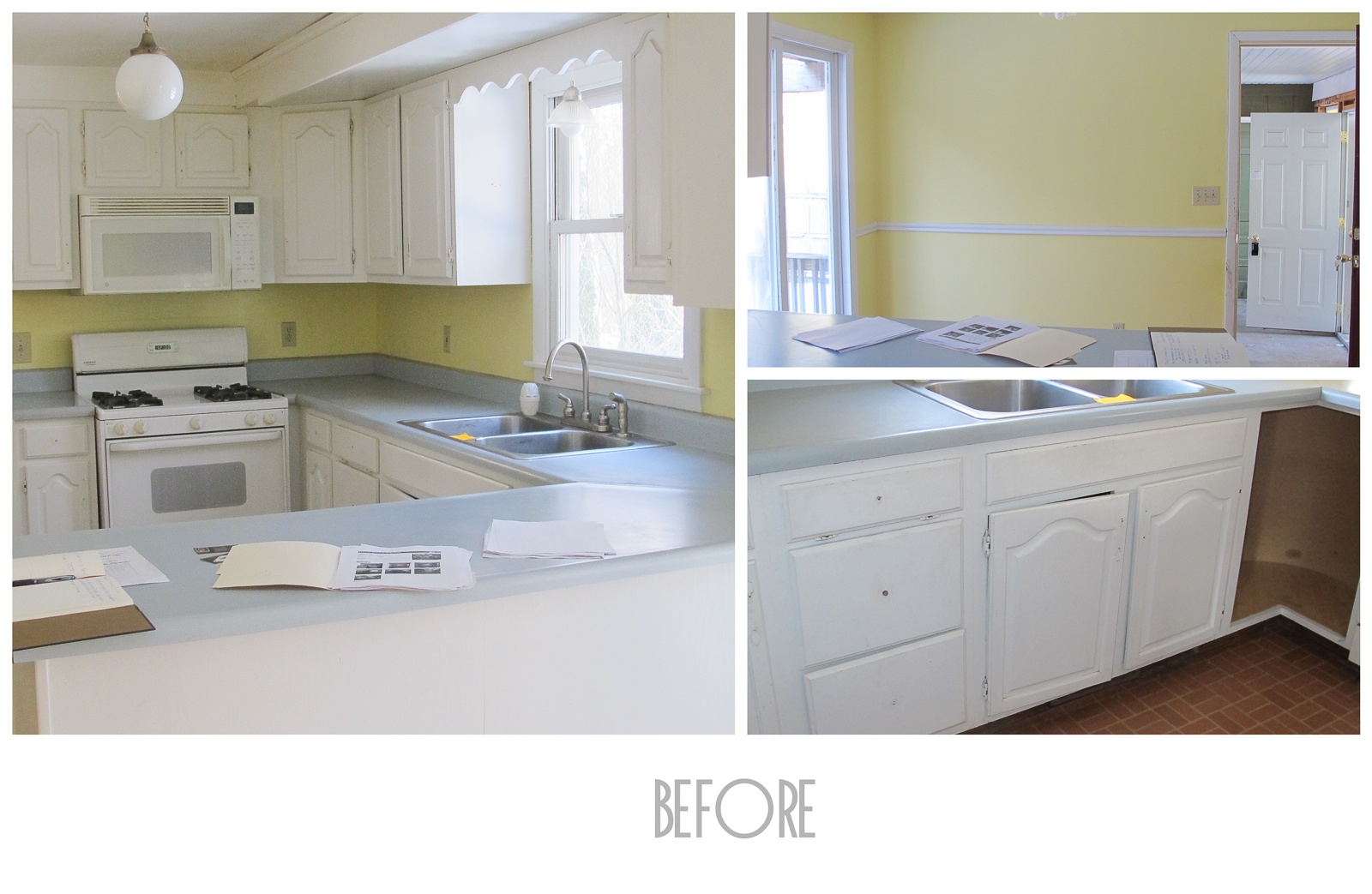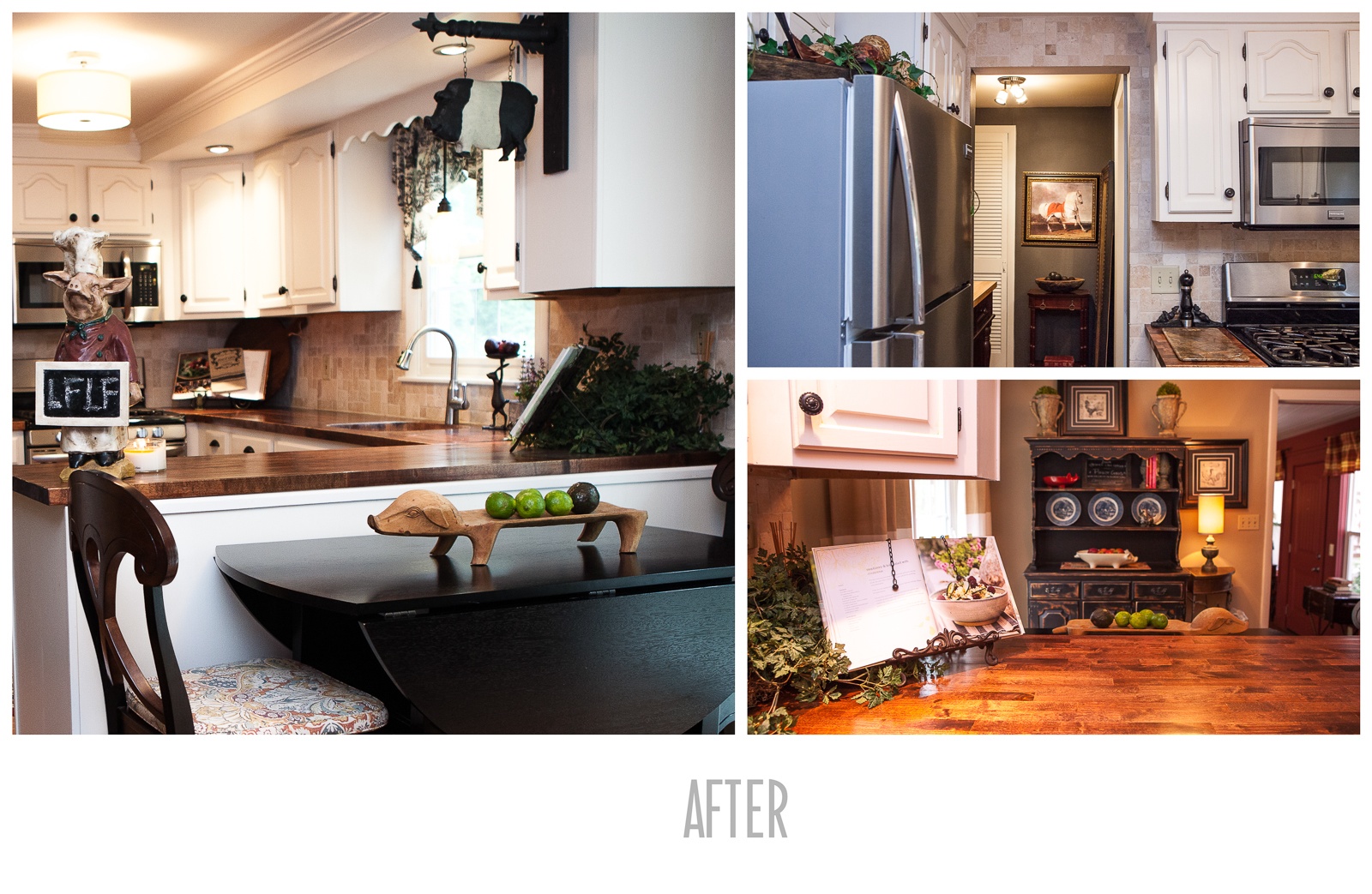 Are you feeling the french country vibe here?  A few deliberately placed accessories can add instant charm to your space.  Don't forget the details!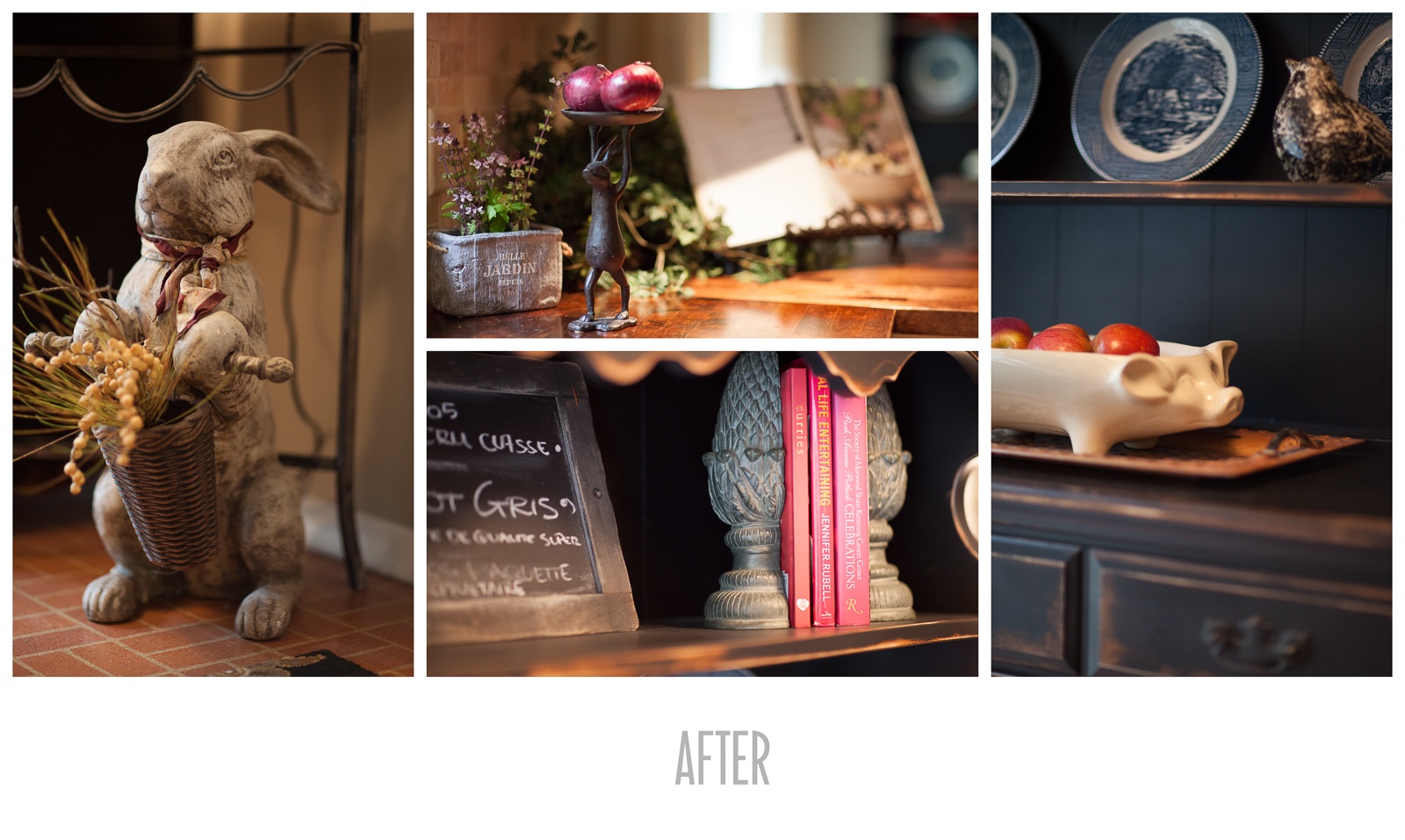 Coffee Bar:
We transformed this awkward desk space off the kitchen into an inviting coffee bar. (This is quickly becoming another signature of ours).  Oh, and what's not to love about chalk boards??  We made a mock-up coffee shop menu and wa-la.. instant charm.  This plaque makes me laugh everytime I walk by:  "Unattended children will be given an espresso and a free puppy."  BAAAAHAAAAA-HA hilarious, right?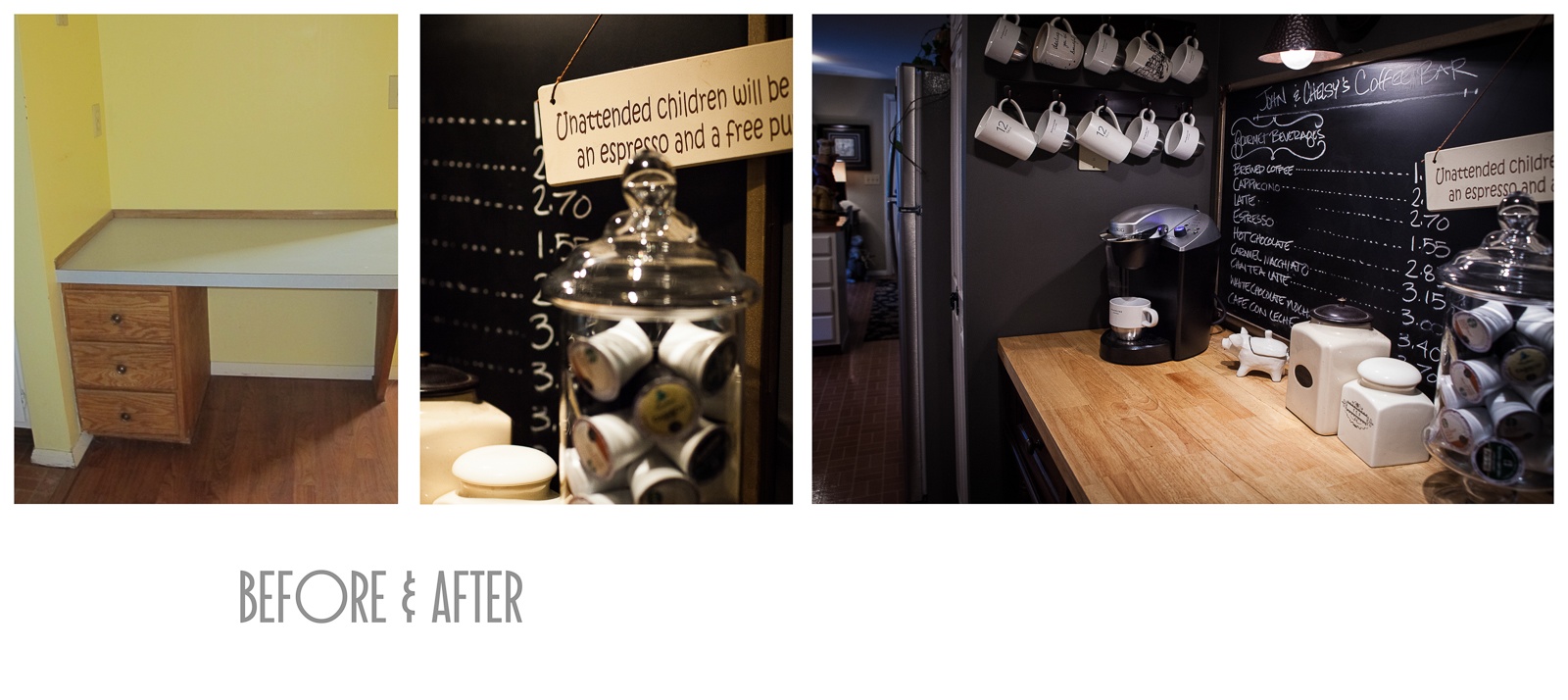 Hopefully you enjoyed this transformation.  WE'D LOVE YOUR COMMENTS.  Please let us know what you liked!